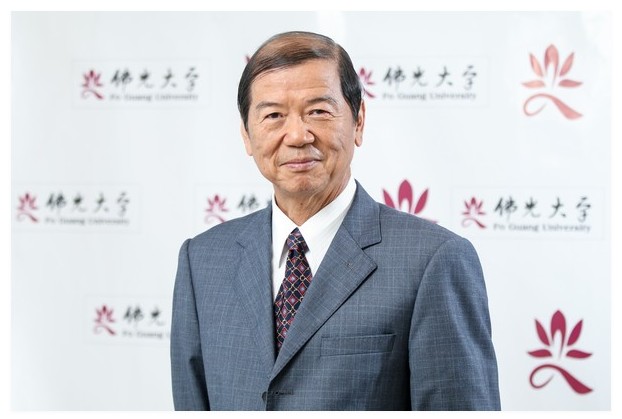 President of the University Consortium
President of Fo Guang University - Yang Chao-hsiang
University is the place to seek the truth, study, transfer knowledge, cultivate talents, and serve the society. It provides suitable services for academic community and society with useful knowledge and needed talents. It should grasp the trend of academic community and society development in order to complete its functions and achieve the values of teaching, research and services of higher education.
Sansheng Education embodies the spirit of school motto
The school motto of Fo Guang University is "Yi, Cheng, Dao, Tzu" which is the way forward in education promoted by Venerable Master Hsing Yun.. "Yi" is the ability to convert inner cognition into useful knowledge and possess independent and critical thinking skills. "Cheng" is the cognition to do right things and do things right. "Dao" means to seek the truth and acquire knowledge. "Tzu" is the heart with gratefulness and joyous giving to care and serve the society. We have integrated the vision of university into our school motto in order to indicate clear visions and directions.
President Yang Chao-hsiang reveals the educational vision of 21th century during his tenure as the Minister of education: "Holistic Education, Warm Campus and Lifelong Learning". He integrates "life", "live", and "career" to promote holistic education in Fo Guang University. These ideas assist students to embody the true meaning of loving life, possess fulfilled life, and promote self-actualization.
In "Sansheng Education", there are three kinds of education: life education, live education and career education. The first one emphasizes "truth" which means honesty, diligence and sociability, group relationships, right person in the right place and letting life shine. The second one focuses on "good" which strives for morality, life quality, and good taste of life. The third one pursues "beauty" which emphasizes the cultivation of professional ability and sustainable development of vocation. Students are not only a learner on campus but also a worker in family, workplace and society. We expect students to perform perfectly for all life occasions.
Innovation and performance
In recent years, university environment has changed because of globalization and industrial revolution. FGU will promote the development of the institutions by five schemes: plenty of educational resources, enhancement of resource efficiency and operational efficiency, equality of opportunity, and multi-faceted excellence. We hope to be one of the famous universities in the future and be the cradle of talents.
Based on the professional experience of education and administration, our president will enhance connection with the industries to strengthen our ability in work and employment. To be one of the five members of "Fo Guang Shan International University Consortium", FGU communicates with universities of the consortium to broaden students' international perspective and provide the opportunity to enroll in a wide selection of courses by "Educational Travel". We uphold the principle of "priority in teachers and students" to construct a friendly campus. In order to promote interactions between teachers and students, we build up "academic mentor family" to reach the goal: "teaching is learning".
In FGU, we believe that our character and potential are the best assets for students, which cultivate the best quality of teaching and learning. Our president and staff work together to create a splendid future for all of you and be a warm campus with excellent teachers, students, teaching and research. In the future, FGU will materialize our ideas in the Fo Guang global educational system: "Holistic Education, Warm Campus and Lifelong Learning".