Academic Talent Development
September 5th, 2021
On this day, the 2021 Fo Guang Shan Monastic Thesis Conference was held, during which a total of 105 monastics applied and 15 papers were presented. The judges were Professor Kin-Tung Yit from the Institute of Philosophy, National Sun Yat-sen University; Professor Chang-Hsiung Tsai from the Department of Life-and-Death Studies, Nanhua University; and Professor Chih-Ying Lee from the Graduate Institute of Religious Studies, Nanhua University. The evaluation criteria included research questions and academic value, research methods and expository ability, and writing standards. Seven participants received an A grade. Nearly 200 presenters, observers, and judges from Europe, the United States, Australia, and Asia presented, critiqued, and queried to stimulate and put into practice Venerable Master Hsing Yun's thought of Humanistic Buddhism and to preserve its historical value through the use of textual prajna.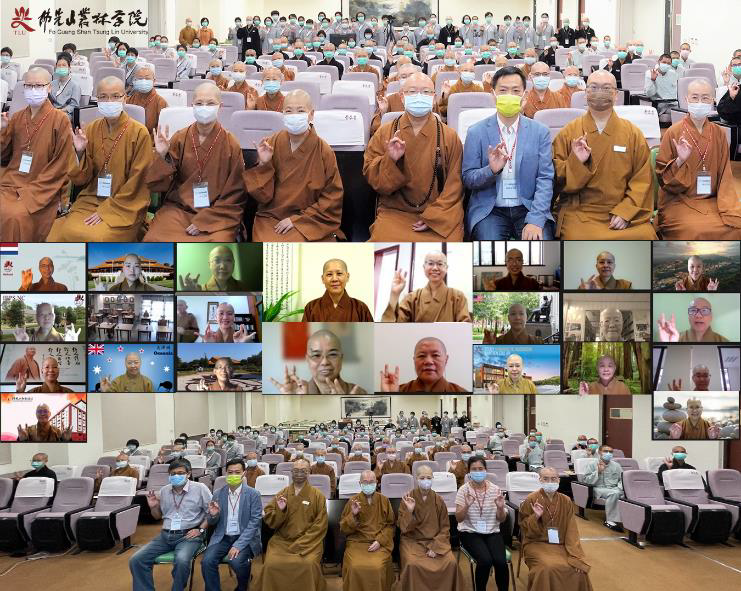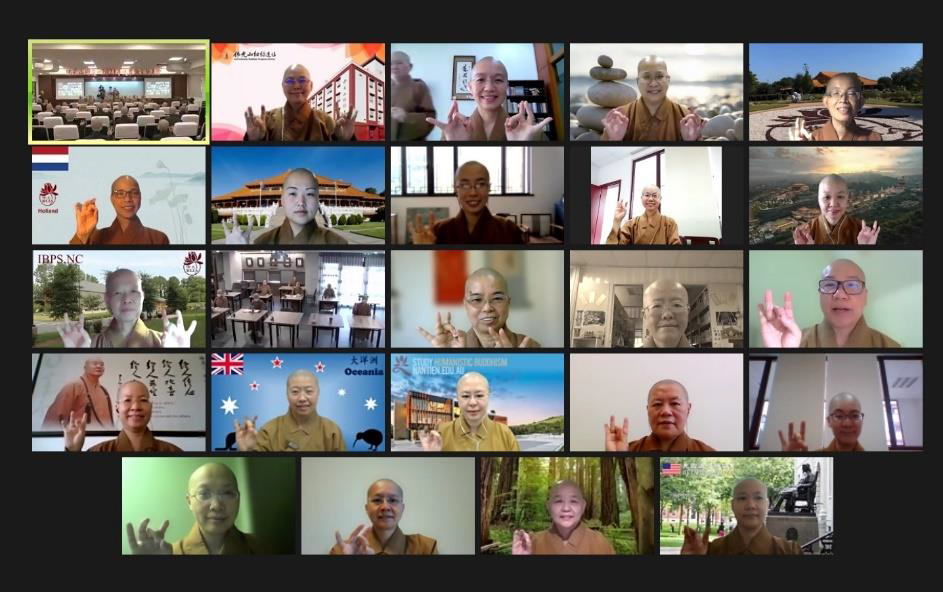 Industry-Academic Collaboration
(Practical Learning during the Lunar New Year)
February 6th, 2022
During the Lunar New Year period, all faculty and students of Tsung Lin University were engaged in practical learning in various departments of Fo Guang Shan, including shrine services, lunchbox cooking and distribution, catering management, and mobile recruitment. This provided a platform for students to develop leadership skills, to apply what they had learned in their regular courses, and to nurture talents in various fields to meet the actual needs of Dharma practice. In order to strengthen the industry-academic link between the monastery and college students, the Fo Guang Shan Great Compassion Shrine also held ten sessions of New Year Great Compassion Repentance Dharma Services, training the students from planning and coordination to operation, during which they cooperated with the pandemic regulations to control the site, as well as provided all-around assistance to the congregation. At the same time, students received hands-on training in Buddhist monastic affairs, Buddhist chanting, and temple management.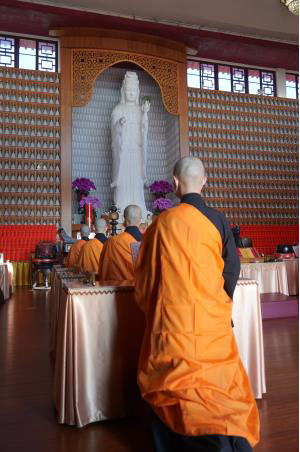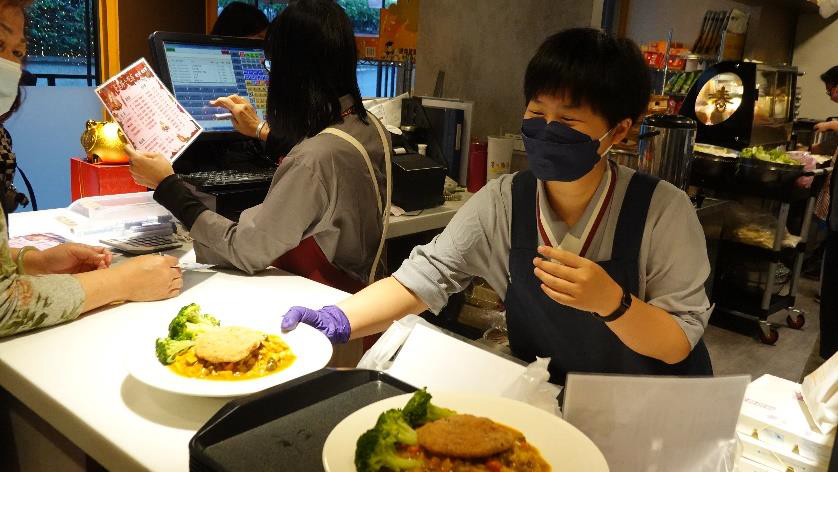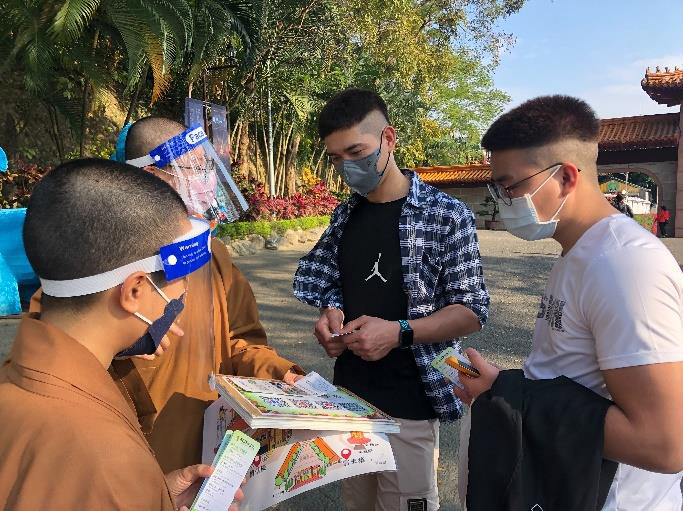 International Talent Development
Translation Practicum at Fo Guang Shan Institute of Humanistic Buddhism
In order to promote Venerable Master Hsing Yun's philosophy of international Dharma propagation, Fo Guang Shan Tsung Lin University established the English Buddhist College (hereafter EBC) in 1986 to actively learn and internalize the Dharma in the English language. The EBC conducts all its courses in English, which echoes with the Ministry of Education's "Bilingual Learning for College Students" Initiative. In addition, under the leadership of Venerable Miao Guang, Vice Chancellor of the Fo Guang Shan Institute of Humanistic Buddhism and Executive Director of the Center for International Affairs, the students participate in the Fo Guang Dictionary of Buddhism Translation Project and the English translation of Venerable Master Hsing Yun's book, Buddha-Dharma: Pure and Simple, to improve their language skills and enrich their Buddhist studies. Students have also expanded their learning horizon through online collaborative learning, thus being able to work with scholars and professionals in various fields such as Sanskrit, Japanese, and programming.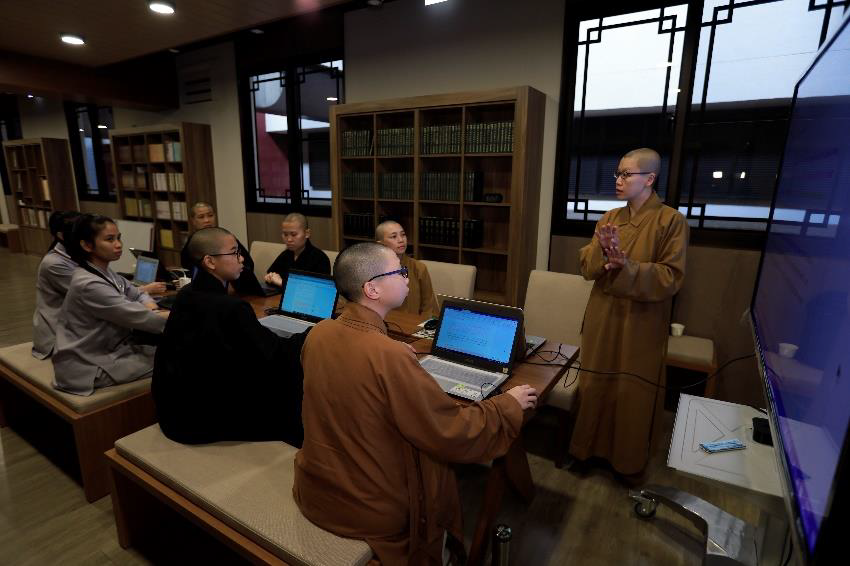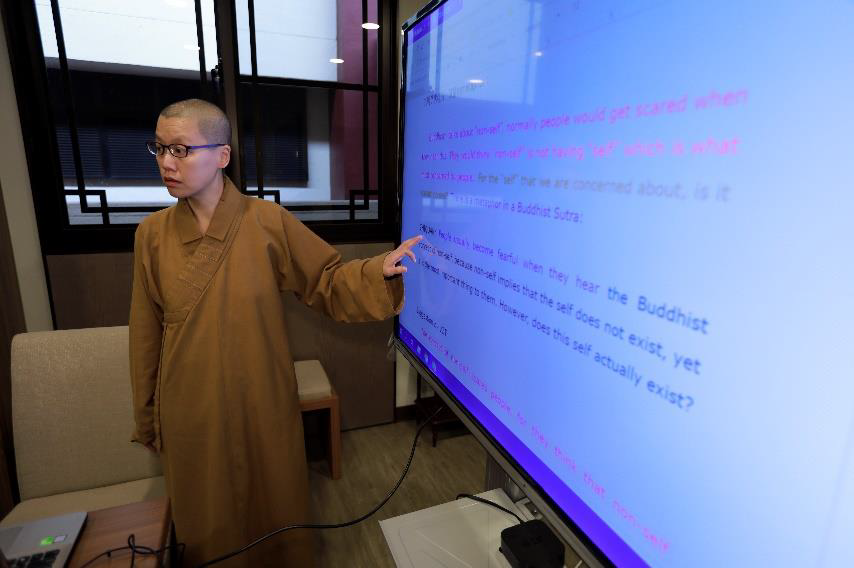 Joyful English Day
Fo Guang Shan Tsung Lin University actively promotes a bilingual learning environment and organizes the Joyful English Day every Sunday, in which the aim is to improve the English proficiency of all faculty and students. The English Buddhist College (hereafter EBC) plans and designs the curriculum, divides the students into three groups: advanced, intermediate, and beginner, and leads the students to understand Buddhist doctrine in English. Moreover, EBC conducts an English proficiency test at the start and end of each semester, with questions from the General English Proficiency Test and Buddhist knowledge in English as the test content.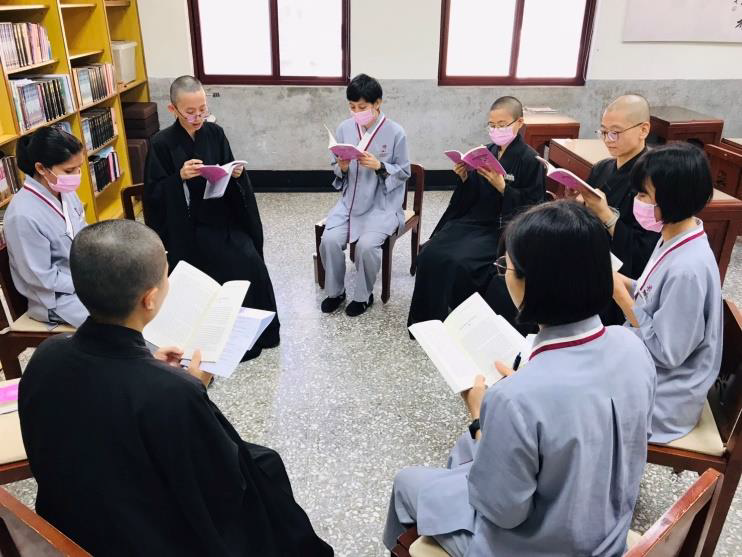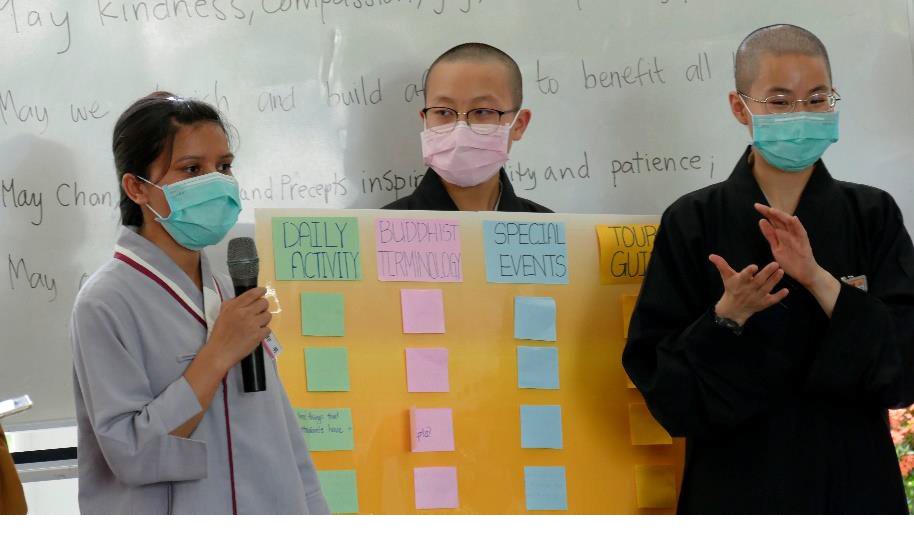 Online Dharma Propagation Through Audio and Video
2021 Fall Semester Online Buddhist College
The first semester of the 2021 academic year of the Buddha's Light College Online Buddhist School began on October 9. A total of 132 young people from 13 countries and regions enrolled in the new semester, including teachers, information technicians, nursing, and graduate students, with 41 master and doctoral students participating. The course contents include I am not a Monk "Sponging off" Buddhism, An Inspiration to Give Rise to the Bodhi Mind, The Amitabha Sutra, The Sumati Sutra, The Biography of Sakyamuni Buddha, and For All Living Beings: A Guide to Buddhist Practice. The goal of the course is for students to learn Buddhism in a way that puts equal emphasis on practice and understanding, and to cultivate faith and the determination to improve oneself. After four months of learning and growth, students from all over the world presented their final learning reports on January 16th, content included a summary of each subject, and reflections from having received well-structured teaching.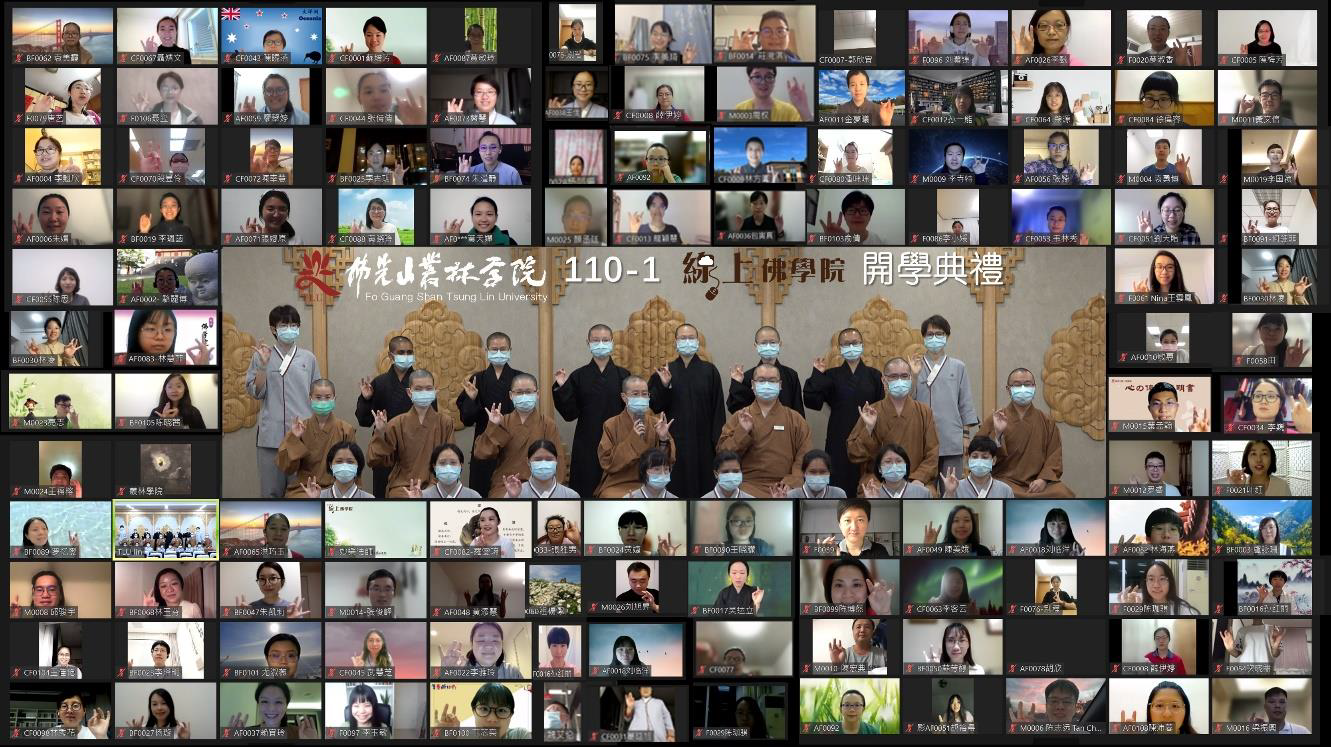 August 28th, 2021
In its 57th year of establishment, Fo Guang Shan Tsung Lin University (hereafter FGSTLU) held its first "Online Graduation Ceremony" on August 28th. Venerable Master Hsing Yun, the founder of FGSTLU, has encouraged graduates to "always remember the kindness received from others" and "work to be accepted by others;" furthermore, not to forget to propagate the Dharma and benefit others, and to be a useful person to the society and the country. Most Venerable Hsin Bao presented the graduation certificates and presided over the Light Transmission Ceremony, and gave instructions that there is no limit to learning, and that only through continuous study with a lifelong vow will one have the strength to achieve greatness. Venerable Tzu Hui and Venerable Tzu Jung gave encouragement to the 100 students who graduated this year. In addition to FGSTLU, there are also the FGS Buddhist Centre New Delhi India, the Indian Buddhist College, the Malaysia Dong Zen Buddhist College, the Fo Guang Ancestral Dajue Temple Culture Training Course, and the FGS Hong Kong Buddhist College. Teachers and students of FGSTLU also post-produced and edited the video, which was viewed a total of 8,000 times worldwide through YouTube.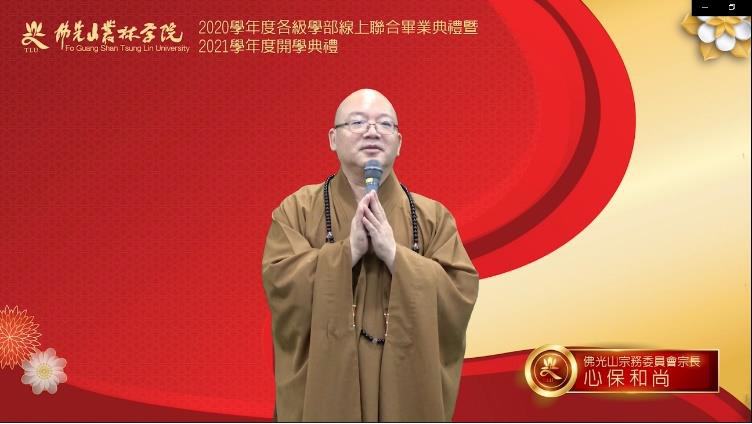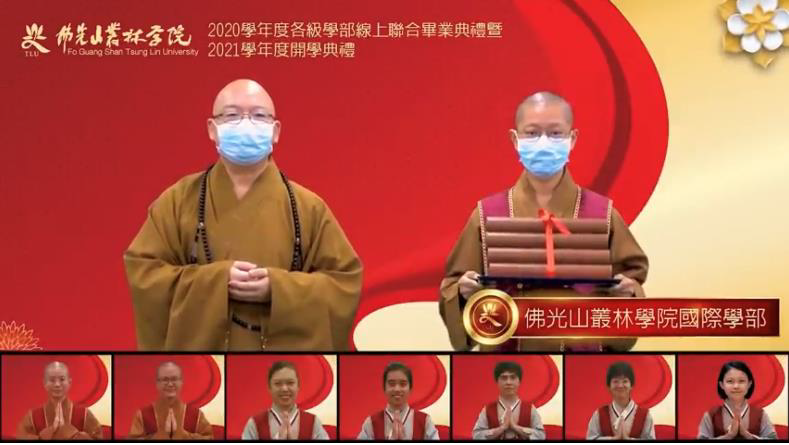 Video and Audio Creations on YouTube
With the transformation of society and learning mode, Fo Guang Shan Tsung Lin University (hereafter FGSTLU) has been actively using the internet platform to expose a wider audience of young people to know more about Buddhism. The "What's in Tsung Lin" and "Meeting Tsung Lin" series have attracted more than 1.5 million views in a year. The faculty and students of the Buddhist College take a light-hearted approach to the Dharma to make the teachings accessible to modern people. It also echoes the 50-year goal that the Venerable Master has set for Fo Guang Shan, which is to modernize Dharma propagating technology and full utilization of the Internet and modern means of mass communication. The video and audio creations allow the University to break through time and space to discover a new direction of talent cultivation.